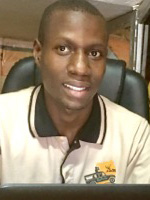 Rogers Nasasira is an enthusiastic man, he likes his work, his country, his nature, his wild life. But he is also an enthusiast of his people, his community, and above all the future of his country, Uganda. This has led him, along with a group of people with the same profile to create The Great Trekkers Safaris a travel agency with which you can visit Uganda and its natural wonders and faunísticas with the best professionals, but with an important detail. An important part of the benefits of The Great Trekkers Safaris is for a project with their communities.
Rogers spoke with us to explain more about their projects.
What is The Great Trekkers Safaris?
The Great Trekkers Safaris is a Ugandan registered tour Company under Reg. No 220298.The Company is approved legally to offer professional tour & travel services across the country and beyond. We offer well guided trekking tours, Wild life Safaris to all the national parks in Uganda, Cultural, nature and community adventures all fronted with a genuine passion for sustainable tourism growth and development. We also do Hotel Reservations, Airport Transfers, Community and conservation initiatives.
The Great Trekkers Safaris is a social enterprise and it's very focused at promoting domestic and community based tourism in Uganda and East Africa at large.
The company is based in western Uganda a region well known as a hub of the best tourist attractions. This is due to the fact that out of the 10 National parks found in Uganda, 8 of these game parks are found in the region including Bwindi Impenetrable Forest which hosts more than 50% of the world's total mountain Gorillas. The region boosts of a wide range of nature and wildlife attractions, the best weather conditions throughout the year and it has two famous mountains that is Mt. Rwenzori one of the highest mountains in Africa with a snow capped peak and Mt.Muhabura another Volcanic mountain found in the region.
Our vision is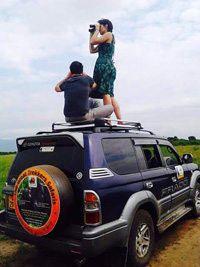 to be a leading travel and tours company that fronts sustainable tourism across Uganda and the region at large. Our mission is to be a first link point in accessing the best tourist destinations, providing the best tour services across the region while fronting community tourism for sustainable development. And,  our company values are: Time Management, Customer Care, Professionalism, Transparency and Community Participation are some of the key values that trigger business approach of The Great Trekkers Safaris, the company has also established itself and guarantees quality, reliability and consistency in the services provided.
When was the company started and who are the founders of Great Trekkers Safaris?
The Great Trekkers Safaris was started in April 2014 and later registered in March 2016 by 2 dedicated young graduates (Rogers & Herbert) both derived with a genuine passion for sustainable tourism and community development. As young graduates we realized a genuine need of starting up a social enterprise which would not only benefit the company owners but would also benefit and develop the communities. We happen to come from Western Uganda widely regarded as tourism hub with the best cultural, nature and wildlife attractions but we realized that the available tour companies' only front profit making at the expense of the people in our communities. So we came up with the idea of starting up a community based tour company that fronts Community Based Tourism for sustainable growth and development.
Currently we have a team of 10 people who work with us at our company. The company employs 2 permanent well trained and experienced local tour guides (Kiiza Herbertson –The head of Transport & Tours, and Agaba Aggrey), Lynn Abigaba the head of Reservations, Jacklene Arinda the brands Ambassador, Joshua Tukesiga- Head of Community Projects, Chris Twehey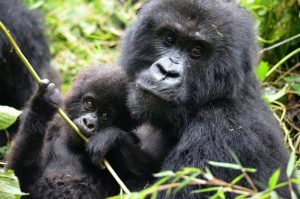 o- Field Operations, One cleaner and one office attendant.
Uganda, the Pearl of Africa a country to discover? Is it a safe country? Friendly with foreigners? Is it interesting to invest?
In 1907 Sir Winston Churchill a former Prime minister of United Kingdom while on his "Africa Journey" visited Uganda and in his own words he said "For magnificence, for variety of form and color, for profusion of brilliant life — bird, insect, reptile, beast — for vast scale — Uganda is truly "the Pearl of Africa." I have moved the entire of this continent from the North to the south, West to the East, Uganda is truly the Pearl of Africa.
From the beautiful landscapes, to the friendly welcoming people with rich cultures, to amazing mountain snow capped ranges of Mt. Rwenzori, Uganda is a place to discover.
Uganda has 10 National parks with several game reserves that harbor the Big 5 (Rhino, Buffaloes, Elephants, Lion and Leopard). The country is home to the highest Gorilla Population found in one of the most thick jungle of Bwindi impenetrable National Park, with the most number of Chimpanzees found in Kibale natural forest, Uganda is the home to the source of R. Nile one of the longest in the w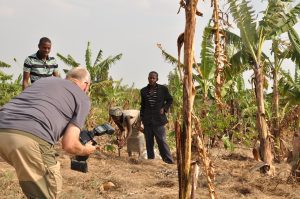 orld and has the largest fresh water Lake Victoria and many other lakes, the country has been ranked the best travel destination in Africa and the 4th best in the whole world by Rough Guides (https://www.roughguides.com/best-places/2017/top-10-countries/).The country was ranked the most welcoming and friendliest nation in Africa by the BBC ( http://www.bbc.com/travel/story/20170215-living-in-the-worlds-most-welcoming-countries).
They say "Facts and Statistics don't lie" the above truly explain why Uganda is the best Country to discover.
Uganda has been very peaceful and safe for the past 30 years now, the country is very peaceful and with enough security for any person visiting. It's a great potential for business and Investment opportunities with its favorable climatic conditions, best weather throughout the year and fertile soils. The country is among the top 10 producers of good coffee in the whole world and the second in Africa. https://en.wikipedia.org/wiki/List_of_countries_by_coffee_production.
The country is very rich in minerals including Gold, copper, Iron, and currently the Country has discovered Oil in the western part of the country (Albertine region).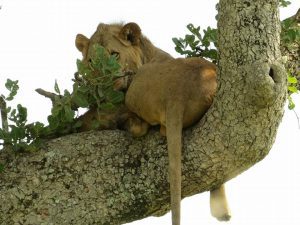 Great Trekkers is sustainable tourism. What is sustainable tourism?
True, Great Trekkers is a tour company which fronts sustainable tourism as a great pillar for community development. Sustainable tourism is the concept of visiting a place as a tourist and trying to make only positive impact on the environment, society and economy. Tourism can involve primary transportation to the general location, local transportation, accommodations, entertainment, recreation, nourishment and shopping. Through sustainable tourism, there must be a balance between the environmental, economic and socio-cultural aspects of tourism development, as it plays an important role in conserving biodiversity. Sustainable tourism minimizes the negative impacts on the environment and local culture while contributing to income levels of communities, offering employment, and the conservation of local ecosystems.
As a company we realized a need of promoting tourism which is beneficial and sustainable not only to the company owners but also to the communities. For nature and environment to be conserved, then communities must be involved in sustainable projects.
When did the idea to start this project begin?
I was born and raised in a conservation community where I got to grow with a unique passion for tourism and community initiatives. As a little child I used to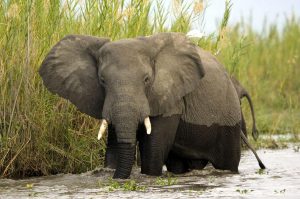 see many tourists visiting our communities and other used to visit our community schools. This trend reduced as companies started to only focus on profits and marketing only trips to National parks and leaving out community visits from their tour packages and trips they sell to tourists. It was in April 2014 after my college studies that I worked as a community local tour guide and it's during this time that I realized a need of starting up a community based Tour Company which fronts sustainable tourism for community development. I shared this idea with my high school friend Herbert who became interested and in 2016 we merged our resources together.
The company was officially registered on 7th March 2016 and we have so far registered some success with a few tour trips we have conducted in the various communities and other selected national parks across the region. Our dream has always been to expand and advance our project while working / collaborating with interested partners who strongly believe in our passion.
What resources do you count?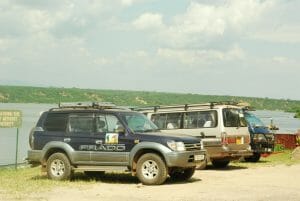 We count our experienced Team of Staff who are passionate and professional about the work they do both for the company and the community at large. The Company owns 4 standard Safari Vehicles very suitable for both field safaris, Airport pick up and drop offs.
As the only registered Tour Company located in the Western which is focusing on community and sustainable tourism, the communities of Rwenjeru found it very important to work with us. The owners of the Community land have entrusted us with their land such that we design better strategies on how to promote and develop the site.
The 12 hectares of community land is strategically positioned and it borders Lake Mburo National Park with great scenic views good for Camping. And we have so far conducted several outreach Community programs to the nearby communities where we sensitized the communities the Role of local tourists in boosting tourism for sustainable growth and development. It's on the same land that we intend to establish an Eco-friendly Camp site in the near future with the support of partners.
Who is your proposal addressed to?
The Proposal is addressed to potential investors who share a similar idea and are willing to build a partnership / collaboration with us to achieve this dream together. The Same Proposal is addressed to the relevant organizations, NGO'S, European Union, etc .
What role do the communities play in your project?
Our communities help us in implementation of our conservation Initiatives-The tree planting project at Rwenjeru community Camp site is implemented by the local communities who ensure that the trees are well protected.
Communities provide the required Art & Craft items which are displayed and sold to travelers at the Rwenjeru Craft Market Centre they organize cultural music and dance performances which are showcased to the visiting tourists
A portion of your profits go to the community, is not it? Explain an example of your activity.
Yes 20% of the profits go to the community. As a social enterprise we realized a need of supporting community based initiatives which other companies couldn't do. As a company we are sharing our profits with the community. Currently we are supporting 2 schools located in Lake Mburo National Park (Nyabuhama and Rwenjeru Primary Schools) where we have launched Wild Life Clubs and our plan is to establish an Eco-friendly Community Camp site where people could have more direct benefits once employed as workers among other related benefits. We are giving back 20% of our company profits to the communities for Charity initiatives and educational support to 20 children studying in the above mentioned schools. Some of these children had dropped out of school and had started hunting animals in Lake Mburo National Park as a way to raise an income through selling of animal meat. We are sponsoring these children by paying half of their fees and providing scholastic materials.
Our plan is to have more support if we can have more people willing to support and sponsor the education of these vulnerable children.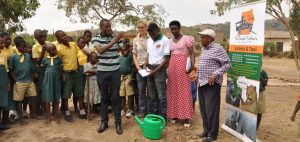 Who do you ask for help?
We seek help from all relevant organizations, NGO'S, Donors, Volunteers, and philanthropists across the world.
And, projects for the future?
Our future plan is secure more partners and support to enable us establish an eco-friendly community camp site at Rwenjeru community where we intend to build a community Library to enhance the reading culture among the most vulnerable communities. This community Library would enable people get access to information on nature and wildlife conservation and we intend to use the same Library for community meetings and dialogues.
We intend to build a Community training & Skills centre for the Youth and Women who will be trained in Art & Craft making and the produced craft items can be sold to the visiting tourists or even exported to the external markets abroad.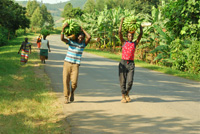 We intend to establish a modern Computer Laboratory (I.T Community Centre where we shall be teaching people basic computer skills) This I.T Centre would also enhance the research and reading culture of basically the Youth who will be trained on how to effectively utilize internet for research, marketing their local packages and products among many others
Rogers, send a message to travelers, and why they should choose an agency like yours to meet Uganda.
First and foremost I thank everyone reading this article and I take this opportunity to invite you to plan a visit to this beautiful, welcoming and peaceful country well gifted with the best nature and wildlife attractions. By choosing to travel with our agency, you not only enjoy the best safari experience but the money you pay to our agency for a Safari to Uganda leaves a good impact to the communities. We don't just focus at earning profits we share the same profits with our community as our focus is to promote sustainable tourism for community development.
The Great Trekkers Safaris in ProdAfrica
(c) ProdAfrica 2017